NV6353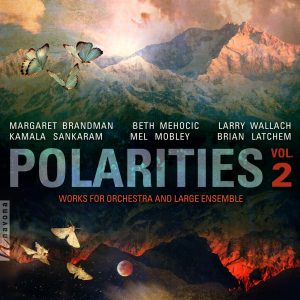 Performed by a combination of the Moravian Philharmonic, Janacek Philharmonic and Zagreb Festival Orchestras, this album of 6 outstanding and diverse works from composers who are similarly eclectic, makes for a truly appealing recording of new music. From accessible orchestration with lyrical themes or nostalgic ideas, to some featuring more contemporary musical vocabulary, this is a recording that doesn't frighten the listener, but can still charm and challenge.
Sydney-based composer Margaret Brandman features on this international label with her Spirit Visions (Symphonic Tone Poem) composed in 2019 and recorded by the Moravian Philharmonic Orchestra, conducted by Pavel Šnajdr. With a distinctive Hollywood flavour incorporating a Latin American flair, this work won for Ms Brandman the Best Foreign Composition in the Artemis Women in Action Film Festival in Los Angeles (2021). It was described as a "classical composition that shifts in tonality, tempo, and rhythmic feel, often referencing the musical sounds of Latin American cultures". The orchestration and melodic development shows a very deft hand at this large ensemble genre, with its conversational elements between the strings and the woodwind/brass. Ms Brandman has made a real impact in this style of composition and through recordings and performances has secured an international following.
Beth Mehocic, a US composer, poet, visual artist, filmmaker, author, and multi-media artist has composed an elaborate dance between piano and accordion/bandoneon in her Tango Concerto, which also displays some impressive writing for strings. The Zagreb Festival Orchestra is conducted by Ivan Josip Skender, with Charlene Farrugia (piano) and Franko Božac (accordion & bandoneon).
This same orchestra and conductor combination features in American composer Kamala Sankaram's work 91919, with violist Natalia Anikeeva. As the name suggests, it is palindromic in structure. Written in 2020, its tonal pallet is atmospheric, with extra-musical sounds and large orchestral slabs of sound offset by delicate solos and glockenspiel, which all lead to a frenetic section dominated by snare drum and brass.
In fellow American Larry Wallach's Species of Motion, the Janáček Philharmonic Orchestra is conducted by Stanislav Vavřínek. This piece perfectly captures the idea of motion with some repetitive string writing and small flute motivic cells, all set off by brass fanfare moments in a tutti vortex of motion.
American percussionist and composer, Mel Mobley has said of his work, Labored Breathing, that it "was built around the idea that breathing, the most central act to life, is often irregular and almost always reflects the emotional significance of the moment. The fact that the piece was recorded and released during the COVID-19 pandemic was quite emotional for me. When the struggle for breath became the central issue around the globe for over a year, the thematic content of the music really hit home. Middle moments of the piece that originally signified the ordinary loves, conflicts, and triumphs of everyday life became a painful reminder of how ordinary life now contained so much struggle".
Performed by the Janáček Philharmonic Orchestra and conducted by Stanislav Vavřínek, its strong gestures of brass, strings, percussion in homophonic punchy sections contrast effectively with the more charming small scale moments of ever so brief solos by bassoon and oboe, and a quirky clarinet. After a somewhat breathless section, the work ends with a subdued and melancholic final breath.
The English composer, Brian Latchem has created a glorious setting for strings, featuring the rich mellow voice of the viola played by soloist Vladimír Bukač. His melodic writing and harmonic treatment are pastoral in flavour, quite reminiscent of the lush and bucolic elements of Ralph Vaughan Williams and Sir Edward Elgar.
The composer has said "The overriding feelings that I hope to communicate through this piece are of calmness and peacefulness through a lyrical English sound. Even in the energetic passages such as the lead up to the climax of the work there is a controlled quality that is typically English. It surprised me that the Czech Orchestra was able to create this feeling from their exquisite playing. One of the things many people who live in Suffolk, on the East coast of England, talk about is the openness of the skies with beautiful sunrises and sunsets, which creates, at times, a peacefulness and calm serenity when the world can be a stressful place".
Amazingly, all the pieces were recorded in 2020 in either the Czech Republic or Croatia. Being on a less well-known record label, this recording of 6 quite amazing composers is well worth exploring, and I, for one, will be seeking out more from Navona Records (Parma).