ABC Classics 485 5703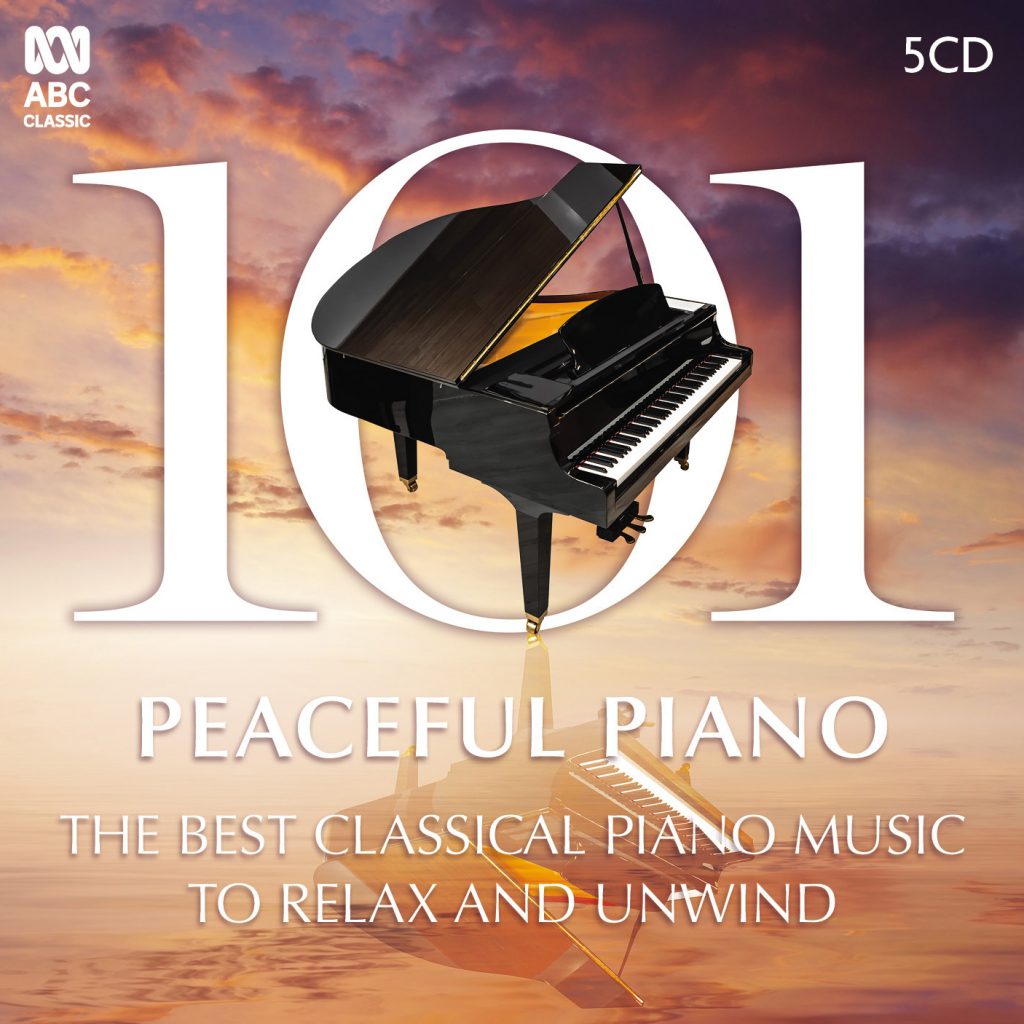 This 5 CD set is a very pleasing collection of some well-known and not so well-known piano music. Played by Australian pianists, including Tamara-Anna Cislowska, Roger Woodward, William Chen, Gerard Willems, Simon Tedeschi, Sally Whitwell, Michael Kieran Harvey, Jayson Gillham and Duncan Gifford to name just a few, the selections are all beautifully crafted and sensitively delivered. They are mostly easy to play and all very short. Being of a tranquil nature, don't expect, however, the drama of The Tempest or Waldstein to appear anywhere.
Impossible to discuss each track, it is best perhaps to highlight merely some special standouts.
The English composer, Howard Blake (1938- ) is best known nominally for his Walking in the Air, from The Snowman, but his Berceuse in its quintuple time signature is also charming. His Isabelle evokes the music-box, as does the Estonian composer Arvo Pärt's Fur Anna Maria.
There are many Australian composers included in this compilation.
Nat Bartsch's And Until Tomorrow is ethereal and mesmerizing, as is her Here I Am, Just for You. Mark Isaacs's Barcarolle fits nicely with Bartsch's Rockabye and Frank Hutchens's Lullaby.
Roy Agnew's An Autumn Morning has the lyricism of a Roger Quilter song, whilst One Came Fluting by Alfred Hill is rather whimsical.
The early piano music of Peter Sculthorpe is most alluring, such as Nocturne No 1, Evocation, Little Serenade and even Left Bank Waltz. The simplicity of gesture in Flight of Sunbirds by Ross Edwards is beautifully conveyed in piano duo form.
Much of this music might also be described as hypnotic, such as Butterflying, and The Rain Puzzle by Elena Kats Chernin, Spiegel im Spiegel by Arvo Pärt, White Scenery by Pēteris Vasks, Touro-Louro-Louro by Nicolas Saboly and, of course, the repetition in the American minimalist Philip Glass's Opening.
Tony Gould has produced some very accessible miniatures, Calm, and Quiet which complement the French composer Yann Tiersen with his simple motifs in his pieces from Amelie.
The cross-rhythms in Prologue by Nicolai Medtner provides a welcome rhythmic contrast.
Film music has also been given a good hearing with works by Bruce Rowland in Jessica's Theme and Tom Fool's Knot, from The Man From Snowy River, Nino Rota in Love Theme, from Romeo and Juliet, Michael Nyman in Big My Secret, from The Piano, Ennio Morricone in Cinema Paradiso, and Carl Vine in Love Me Sweet from The Battlers.
Arrangements of pop tunes see some interesting and stylized versions of Beyonce's Halo, Flume's Never Be Like You, Miley Cyrus's Wrecking Ball, Justin Bieber's Sorry, and Vangelis's Missing.
This is a fine collection of piano pieces either for easing the cares of the world away, or as some really beautiful piano repertoire for your students to digest easily and perform.
For those wishing to see a complete listing, here is the complete list on this recording.
CD1
1 Howard Blake: Walking in the Air, from The Snowman (William Chen)
2 Nat Bartsch / Luke Howard: And Until Tomorrow (Nat Bartsch)
3 Howard Blake: Berceuse (William Chen)
4 Elena Kats-Chernin: Eliza Aria, from Wild Swans (Tamara-Anna Cislowska & Elena Kats-Chernin)
5 Airchie Allan: The Dean Brig o' Edinburgh (Catherine Strutt)
6 Roy Agnew: An Autumn Morning (Tamara-Anna Cislowska)
7 Maurice Ravel: Pavane for a Dead Princess (John Chen)
8 Gabriel Fauré: Sicilienne, Op. 78 (Roy Howat)
9 Johann Sebastian Bach: Sheep May Safely Graze (Jayson Gillham)
10 Erik Satie: Gymnopédie No. 2 (Stephanie McCallum)
11 Wolfgang Amadeus Mozart: Variations on 'Willem van Nassau' – No. 5 (Gerard Willems)
12 Tomaso Albinoni: Adagio, from Oboe Concerto in D minor (David Stanhope)
13 Frédéric Chopin: Waltz in A-flat major, Op. 69 No. 1 (Roger Woodward)
14 Francis Poulenc: Novelette in C major (Antony Gray)
15 Percy Grainger: Bridal Lullaby (Roger Woodward)
16 Ludwig van Beethoven: Andante, from Piano Sonata No. 25 (Gerard Willems)
17 Pyotr Il'yich Tchaikovsky: Mamma, from Album for the Young (Simon Tedeschi)
18 Trad: The Cliffs of Moher (Tony Gould)
19 Howard Blake: Isabelle (William Chen)
20 Peter Sculthorpe: Evocation (Tamara-Anna Cislowska)
21 Nikolai Medtner: Prologue, from Eight Mood Pictures (Jayson Gillham)
CD2
1 Ludwig van Beethoven: Für Elise (Tamara-Anna Cislowska)
2 Peter Sculthorpe: Nocturne No. 1 (Tamara-Anna Cislowska)
3 Claude Debussy: Voiles (Veils), from Preludes, Book 1 (Duncan Gifford)
4 Pyotr Il'yich Tchaikovsky: Evening Reverie (Duncan Gifford)
5 Johannes Brahms: Lullaby (Roger Woodward)
6 Felix Mendelssohn: On Wings of Song (Roger Woodward)
7 Frédéric Chopin: Berceuse (Roger Woodward)
8 Trad / Percy Grainger: The Sussex Mummers' Christmas Carol (Stephanie McCallum)
9 Aleksandr Skryabin: Étude in F-sharp major, Op. 42 No. 4 (Tamara-Anna Cislowska)
10 Jean Sibelius: Berceuse (Roger Woodward)
11 Johannes Brahms: Intermezzo in B minor, Op. 119 No. 1 (Antony Gray)
12 Alessandro Marcello / Johann Sebastian BACH: Adagio, from Oboe Concerto in D minor (John Champ)
13 Pyotr Il'yich Tchaikovsky: The Lark's Song, from Album for the Young (Simon Tedeschi)
14 Tony Gould: Calm (Tony Gould)
15 Robert Schumann: Andantino, from Piano Sonata No. 2 (Ian Holtham)
16 Robert Schumann: Träumerei (Rêverie), from Scenes from Childhood (Stephanie McCallum)
17 Josef Suk: Idyll (Roger Woodward)
18 Ludwig van Beethoven: Adagio, from Piano Sonata No. 1 (Gerard Willems)
19 Johann Sebastian Bach: Siciliano, from Flute Sonata No. 2 (Jayson Gillham)
20 Trad: All Through the Night (Catherine Strutt)
CD3
1 Claude Debussy: Clair de lune (Stephanie McCallum)
2 Edvard Grieg: Morning Mood, from Peer Gynt (Gerard Willems)
3 Bruce Rowland: Jessica's Theme, from The Man from Snowy River (Roger Woodward)
4 Trad: Amazing Grace (Catherine Strutt)
5 Flume: Never Be Like You (Steve Polydorou)
6 Miley Cyrus: Wrecking Ball (Steve Polydorou)
7-8 Ross Edwards: A Flight of Sunbirds – excerpts (Viney-Grinberg Piano Duo)
9 Yann Tiersen: The Argument, from Amélie (Sally Whitwell)
10 Nino Rota: Love Theme, from Romeo and Juliet (Roger Woodward)
11 Charles Chaplin: Mandolin Serenade (Roger Woodward)
12 Carl Vine: Love Me Sweet (David Stanhope)
13 Nat Bartsch: Here I Am, Just for You (Nat Bartsch)
14 Elena Kats-Chernin: Butterflying (Tamara-Anna Cislowska)
15 Johann Sebastian Bach / Myra Hess: Jesu, Joy of Man's Desiring (Jayson Gillham)
16 Justin Bieber: Sorry (Steve Polydorou)
17 The Knife: Heartbeats (Steve Polydorou)
18 Nat Bartsch: Rockabye (Nat Bartsch)
19 Mark Isaacs: Barcarolle (Simon Tedeschi)
20 George Gershwin: Prelude No. 2 (Simon Tedeschi)
CD4
1 Johann Sebastian Bach: Prelude No. 1 in C major, from The Well-Tempered Clavier (Michael Kieran Harvey)
2 Peter Sculthorpe: Little Serenade (Viney-Grinberg Piano Duo)
3 Robert Schumann: Melody, from Album for the Young (Roger Woodward)
4 Tony Gould: Quiet (Tony Gould)
5 Franz Liszt: Andantino, from Five Piano Pieces S.192 (Roger Woodward)
6 Vladimir Vavilov: Ave Maria (David Stanhope)
7 Johann Sebastian Bach: Sonatina, from Cantata No. 106 'Actus Tragicus' (Antony Gray)
8 Sergei Rachmaninoff: Adagio sostenuto, from Six Musical Moments (Scott Davie)
9 Howard Blake: Make-Believe (William Chen)
10 Ludwig van Beethoven: Andante, from Piano Sonata in E-flat major, WoO47 No. 1 (Gerard Willems)
11 Trad: Valse Frontenac (David Stanhope)
12 Pēteris Vasks: White Scenery (Tamara-Anna Cislowska)
13 Pyotr Il'yich Tchaikovsky: October: Autumn Song, from The Seasons (Tamara-Anna Cislowska)
14 Alfred Hill: One Came Fluting (Tamara-Anna Cislowska)
15 Wolfgang Amadeus Mozart: Sonatina in G major (Roger Woodward)
16 Christian Pezold: Minuet in G minor (Anna Goldsworthy)
17 Arvo Pärt: Für Anna Maria (Tamara-Anna Cislowska)
18 Frank Hutchens: Lullaby (Roger Woodward)
19 Johann Sebastian Bach: Sleepers, Wake (Antony Gray)
20 Nicolas Saboly: Touro-Louro-Louro (Tony Gould)
CD5
1 Beyoncé: Halo (Steve Polydorou)
2 Michael Nyman: Big My Secret, from The Piano (Roger Woodward)
3 Ludwig van Beethoven: Adagio sostenuto, from Moonlight Sonata (Gerard Willems)
4 Claude Debussy: The Girl with the Flaxen Hair, from Preludes, Book 1 (Duncan Gifford)
5 Yann Tiersen: Nursery Rhyme from Another Summer, from Amélie (Sally Whitwell)
6 Franz Liszt: Consolation No. 3 (Stephanie McCallum)
7 Philip Glass: Opening (Sally Whitwell)
8 The XX: Islands (Steve Polydorou)
9 Anne Dudley: Theme from Poldark (Steve Polydorou)
10 Frédéric Chopin: Nocturne in E-flat major, Op. 9 No. 2 (Ewa Kupiec)
11 Elena Kats-Chernin: The Rain Puzzle (Tamara-Anna Cislowska)
12 Bruce Rowland: Tom Fool's Knot, from The Man from Snowy River (Roger Woodward)
13 Vangelis: Main Theme from Missing (Roger Woodward)
14 Johannes Brahms: Intermezzo in A major, Op. 118 No. 2 (David Stanhope)
15 Peter Sculthorpe: Left Bank Waltz (Tamara-Anna Cislowska)
16 Arvo Pärt: Spiegel im Spiegel (Tamara-Anna Cislowska)
17 Elena Kats-Chernin: All Things Conspire (Tamara-Anna Cislowska)
18 Leonard Rosenman: Main Theme from East of Eden (Roger Woodward)
19 Erik Satie: Gymnopédie No. 1 (Stephanie McCallum)
20 Ennio Morricone: Main Theme from Cinema Paradiso (Roger Woodward)