Sally Whitwell
ABC 481 6592
To record the complete works of any respected composer is a daunting and emotionally grueling task, let alone a composer still living. Sydney pianist, Sally Whitwell, has said of the recording of the complete Etudes for Solo Piano (2 books of 10 Etudes each) that it was almost like a love affair.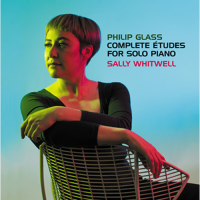 Clearly, Whitwell is a passionate advocate for the music of international master of minimalism, Philip Glass. So much so that her talent has taken her to perform Glass in Los Angeles, and even New York, in the presence of the composer.
"His signature repetitive structures … pull you into a unique meditative space (if you let them)", said Whitwell.
But if you harbour a pre-conceived notion of minimalist piano music, you may be surprised by the highly melodic elements that are evident herein these Etudes.
The range of emotions explores the composer's shifts in state of mind. Each Etude presents a differing element and artistic demand. Some are heroic, thick textured (particularly using the middle register of the piano in abundance), whilst others are simplistic, lyrical and even romanticized. Some deliberately use little or no pedal, and others will resonate more with carefully considered pedalled sonorities. Particularly appealing are the sometimes quirky high register fragments of tunes that chirp out, over a more dense chordal repetition.
It could be argued that the repetitions are akin to the monotonous cycle of urban life, the constancy of "motoric" ideas (eg traffic motion, like trains).
Whitwell's artistry here is dynamic. Articulation and expressive nuance is impressive. Her love of this music is clear, and she brings to these etudes a refined sophistication. This double CD recording places her without doubt at the forefront of exponents of Philip Glass, and should give Whitwell the international recognition she deserves.