(This article first appeared in the January 2016 edition of Fine Music magazine.)
In a new initiative by Fine Music, students, teachers and listeners will have the opportunity to hear and learn about the latest in Australian music.
With Jason Noble at the helm, listeners will discover concepts have their aural diet expanded, as new music is explored from both the performers' and composers' perspective.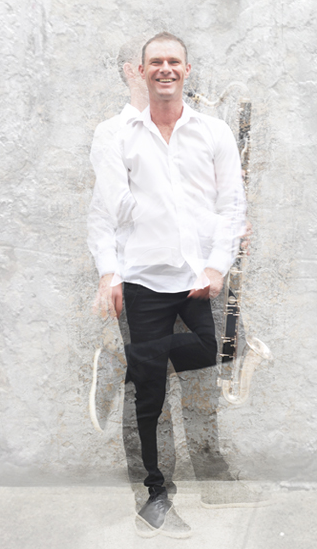 Designed to add to the study of the HSC Senior Music topic, Music of the Last 25 Years, the programmes will assist young audiences, their teachers, and hopefully will find some new converts in older generations as well.
"I see the development of this radio programme as being a valuable resource for music teachers and students, as well as the general public. As a performer specialising in modern repertoire and as a teacher of my instrument, I still find it difficult to direct students in the right direction when it comes to selecting a piece to perform for the compulsory core topic as set by the NSW Board of Studies, Teaching and Educational Standards (BOSTES)," said broadcaster, Jason Noble.
In league with key players in the area of new music, Noble has had the benefit of the Australian Music Centre.
"The AMC does a great job collating potential material for students and their teachers, but sometimes sifting through the vast repertoire can be time consuming, " Noble said.
The initial broadcasts in February will be an introductory series. Fine Music will present an hour length program each on wind and brass, strings, piano, and percussion. Programmes will feature discussions with composers, HSC markers, and teachers.
Later in the year (Term 4), we will work towards a half hour show on each instrument, with about 6 to 8 works featured.
A series like this will excite all those listeners who believe in life long learning. The opportunity to hear new music, and find meaning will be paramount for the success of the series.
As senior Music student from across the state know, the compulsory core topic for the HSC subject, Music 2, is Music of the Last 25 years, and thus will form the main focus of this project. Works chosen for broadcast must have been composed in the last 25years by an Australian composer. The focus is therefore on solo and duo works. Students selecting the Music 1 course could also find some interesting pieces to select should they choose the Australian Music elective, or even the other topic – An Instrument and its Repertoire. There should be works presented to cater for a range of student abilities.
Making this programme digital will give access to those who live in the country too. Many teachers will admit that they tend to fall back on the same tried and tested pieces, but there is so much more music out there virtually undiscovered.
Jason Noble, a bass clarinetist, believes that our music tells us much about the diversity of Australia.
"The listener doesn't have to enjoy every piece; they are short enough to get a good cross-section of what is going on with Australian composition, while listening to some of Australia's finest performers. We need to keep supporting new ways of making music, while reflecting on the great legacy of Western Art Music," said Noble.
Some of the more established composers, such as Ross Edwards, Elena Kats-Chernin will be heard alongside lesser-known ones. Variety is the common theme, and an attempt to get students to become aware that there is an abundance of new works written for their instrument will be a prime objective.
Whilst many students focus heavily on their performances skills, there is also an important part for composition in the study of HSC Music.
"I think there is naturally some co-relation with the composition elective, in that students will be able to hear a lot of Australian works, which could influence their own composition skills. A teacher could easily use the programme to focus on compositional techniques in a couple of the works after purchasing a score. Most scores will be available from the Australian Music Centre, or websites of the composers. In the future, we may be able to extend the program to do a feature on successful HSC compositions. I think this would be really interesting, as there is some great work and teaching being done," Noble said.
Being a performing musician, Noble is keen to link in with the many organisations with which he already works.
"As a member of Ensemble Offspring, I have lots of links with composers and performers specialising in this new music," said Noble.
Ensemble Offspring and the Acacia Quartet, along with pianist Sally Whitwell, worked alongside Richard Gill and Karen Carey earlier this year for a successful HSC composition workshop at Santa Sabina. The waters were tested here, with about 100 students and their teachers attending. There is certainly a hungry audience for this new music.
Noble believes that there is need for more access to events like these, to show students that they are not working alone, and to inspire each other to improve their performing and compositional skills.
"The advantage of this radio programme is really that students across the state can access the show without leaving their home. It is great as it will provide equal access for everyone," Noble said.