Greta Bradman, David Hobson, Lisa McCune, Teddy Tahu Rhodes
ABC 482 3700
Audiences applaud such compilations when four well-known ("popular") singers are brought together, and a national tour is mounted, making the release of a disc of arias, duets and ensembles, an assured top-seller.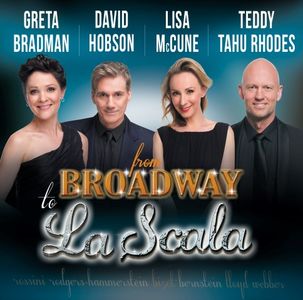 Musical theatre selections are from The Sound of Music, The Phantom of the Opera, Les Miserables, West Side Story, South Pacific, Oklahoma and Carousel. From opera, we hear excerpts from The Barber of Seville, The Pearl Fishers, Carmen, and The Elixir of Love.
Best by far is the aria Largo Al Factotum, from The Barber of Seville with the splendidly grand and rich voice of Teddy Tahu Rhodes. As well, his Toreador's Song from Carmen is another expose of fine vocal artistry.
He joins the lighter tenor voice of David Hobson in the wondrous Act 1 duet Au Fond Du Temple Saint, from The Pearl Fishers, in which the vocal ensemble is very satisfying.
Rossini's Una Voce Poco Fa displays the widely acclaimed new voice on the operatic stage, Greta Bradman with all her richness in the low register and an ease and lightness in the upper realms. It is easy to see why Maestro Richard Bonynge, who in this recording conducts the English Chamber Orchestra, is championing Ms Bradman.
Lisa McCune gives so much joy in My Favourite Things from The Sound of Music. It is a sheer delight, as is her solo from Oklahoma, Oh What a Beautiful Morning.
The finest ensemble piece is You'll Never Walk Alone from Carousel, even with these unequal voices at times. Individually, these voices have their own uniqueness and capacity to enthrall listeners, and I have no doubt that in concert or stage production, their performances would be enticing.
The harmonic setting of the duet, The Music of the Night, was somewhat odd, making one question why it was added at all. This is by far not the greatest rendition of this well-known song from musical theatre.
A similar curiosity arose with the opening track Hallelujah, an unusual take on this classic pop song by Leonard Cohen. Its first two verses were strangely conceived, but it settled and built effectively in McCune's verse, and whilst Rhodes's verse was good in itself, it was poorly mixed with the other voices. How does Cohen's Hallelujah fit the Broadway to La Scala theme? A: Only with a stretch of the imagination.
Similarly, the inclusion of Nella Fantasia (a version of Gabriel's Oboe with words) from the film, The Mission, seems again at odds, however, David Hobson's solo here is perhaps his best, accompanied by the stunning voices of Cantillation.
A variety of orchestras (English Chamber Orchestra, Sinfonia Australis, but primarily the Tasmanian Symphony Orchestra) gave this quartet of singers an authentic backdrop to enhance their performances further.