(Reproduced from ACO Concert Programme: Tognetti's Beethoven, 2014)
Our good friend Peter was Australia's foremost classical music composer, and one of our most original and distinctive creative voices in any medium. Born and schooled in Launceston, he undertook university studies at Melbourne, under Bernard Heinze, and Oxford, where in 1958 his tutor, composer Edmund Rubbra, prophetically dubbed him 'Australia's Bartók'. Another English mentor, musicologist Wilfrid Mellers, saw that it was paradoxically at Oxford that the homesick young Antipodean 'discovered his true identity, becoming the first composer to make a music distinctively Australian'.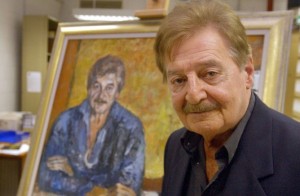 Back home he responded to his father's death in 1961 by composing his 'austerely Australian' string orchestra classic Irkanda IV. It earned him the attention of arts leaders including Nugget Coombs and Robert Helpmann, and resulted in opera, ballet and chamber music commissions, as well as a place at the head of a questing 'new wave' of young composers including Nigel Butterley, George Dreyfus, Larry Sitsky, and the late Richard Meale.
His appointment to the teaching staff of Sydney University
in 1964 was a turning point in his own creative development. 'Thrown in at the deep end,' he recalled, by Professor Donald Peart, he found himself teaching Asian traditional music, which in turn deeply influenced his own music.
Sculthorpe learned double bass so he could join the string orchestra at Melbourne University's Conservatorium in the late 1940s. Since then, music for strings has formed the core of his output as a composer: in his 18 string quartets (one more than Beethoven!), and many scores for string chamber orchestra. When a group of his friends formed the Australian Chamber Orchestra in 1975, it was inevitable that Peter would compose for them.
His first work for the ACO was the sombre Lament for Strings (1976). His second, Port Essington (1977), created a dramatic mix of historic and contemporary sounds to reimagine an early colonial settlement in the Carpentaria. In 1989, he returned to the gulf country in his concerto, Nourlangie, for the ACO and guitarist John Williams. Over their almost 40-year shared history, Peter composed nine new scores for the ACO, the last the Chaconne, to celebrate Richard's 20th anniversary as artistic director. In turn, the ACO has made three all-Sculthorpe CDs, as well as championing his music at home and abroad.
Sculthorpe showed Australian classical music how to become more truly itself, by moving on from its foundational European focus, and situating us firmly in our own place and region. For Australian music post-Sculthorpe, Europe is the Antipodes! As we celebrate a musical life completed and contemplate his ongoing legacy – and after Sculthorpe himself has been accorded due plaudits for having been so exceptionally himself – Australia too should take a bow for creating him!
SCULTHORPE WORKS COMPOSED FOR AND PREMIERED BY THE ACO
Lament for Strings (1976)
For the Australian Chamber Orchestra First performance: 26 May 1976,
City Hall, Wollongong NSW: Australian Chamber Orchestra
Port Essington (1977)
Commissioned by Musica Viva Australia for the Australian Chamber Orchestra
First performance: 16 August 1977, Mayne Hall, University of Queensland, Brisbane QLD: Australian Chamber Orchestra
Little Suite for Strings (1983)
For the Australian Chamber Orchestra First performance: 22 September 1983, Sydney Opera House: Australian Chamber Orchestra
First Sonata for Strings (1983) Commissioned by Musica Viva Australia for the Australian Chamber Orchestra
First performance: 29 November 1983, Sydney Opera House: Australian Chamber Orchestra
Second Sonata for Strings (1988) Commissioned by the Australian Chamber Orchestra
First performance: 19 May 1988, UK, Brighton Festival, St Martin's Church: Australian Chamber Orchestra/
Carl Pini
Nourlangie (1989)
Commissioned by the Australian Chamber Orchestra
First performance: 24 October 1989, Australia, Queensland Performing Arts Complex, Brisbane: John Williams/Michael Askill/Australian Chamber Orchestra/Richard Hickox
Lament (1991)
For the Australian Chamber Orchestra First performance: 22.9.91, Australia, Sydney Opera House: Raphael Wallfisch/Australian Chamber Orchestra
Djilile (2001)
For the Australian Chamber Orchestra First performance: June 2001, Chandos recording sessions, Sydney: Australian Chamber Orchestra/ Richard Tognetti
Chaconne (2009)
Dedicated to Richard Tognetti; commissioned by the Australian Chamber Orchestra to mark the occasion of Richard Tognetti's
20th anniversary as leader and artistic director of the orchestra
First performance: 8 August 2009, Richard Tognetti (violin), Australian Chamber Orchestra, Llewellyn Hall, Canberra School of Music, Canberra
AUSTRALIAN CHAMBER ORCHESTRA