Nothing seems to be too daunting for the ground-breaking Artistic Director of the Australian Chamber Orchestra, Richard Tognetti AM, but he and his band of musicians have taken on three great works of Beethoven, and added a new work by one of the world's leading rock musicians, Jonny Greenwood. They are really up against Beethoven in this concert tour.
Dubbed Tognetti's Beethoven, the next tour by the ACO will put everyone on the edge of their seats as the orchestra plays three monumental works, the Coriolan Overture, the Symphony No 1 and the Triple Concerto.
"The Coriolan Overture is one of the great dramatic pieces. It's about a General who goes off to war and ends up tragically dying."
"The momentum that Beethoven can build up, and the impending doom makes this incredibly dramatic and heartbreaking stuff", says Tognetti.

Hearing Tognetti describe the music he is to perform, one can feel a strong connection and passion that comes from the soul of this great musician. Every word, like every note he plays is filled with spirit. His take on everything is as though there is no tomorrow.
Composed for a drama by Heinrich Collin, the Coriolan Overture was written in 1807 and deals with political and human issues, which instantly captivated the imagination of Beethoven during this period of his life. He seized upon the essential principles of conflict in this powerful and musically self-sufficient tone poem.
Beethoven tries to bring to his music the torment of a General who finally and tragically realizes that the sacrifice of his own life will bring about peace, without loss of honour. It is epic music and the ACO are facing it head on in this programme.
Tognetti then goes on to describe Beethoven's first attempt at writing a symphony as a "winner – Bingo!"
"It's bubble galore. It's incredibly alive, almost more like Haydn than Mozart; it sounds easy, as though it flowed out of him (Beethoven), but it's got this colossal nature to it.  And one wouldn't have been surprised if Beethoven had written the "Eroica" as his first symphony, but (in haven't written this symphony as his first) it is almost as though he was testing the waters."
When Beethoven finished his first symphony he needed an event to announce to the world this new foray into the world of symphony, a world inhabited by Mozart and Haydn. And so it was at the stunningly ornate Royal and Imperial Court Theatre in Vienna in April 1800 that the composer took on his audience and won out.
Already known as the greatest piano virtuoso in Vienna (he had written two Piano Concertos by this stage), Beethoven produced what was his first personal benefit concert, including one of the Piano Concertos, but commencing with a Mozart Symphony. It was by so doing, that he really did declare his hand. Beethoven was ready to stand alongside, or perhaps even tower above the past masters.
The first Symphony in every gesture toyed with tonality. It played with people's aural expectations of where the home was. This was music that set his audience on the edge of their seats.
Beethoven so cleverly works harmonic invention, working around key centres that help too give the music an inherent tension. The opening chord of the first movement is not the expected C major (or home) triad so typically needed for eighteenth century ears, but rather a discord. And though he shifts key by bar three, it is still not the home key.
The work is full or aural surprises; timpani tuned as if for a movement in a different key, a scherzo in place of a minuet, and a scherzo (musical joke) that shows a perhaps wicked sense of humour, and a particularly frivolous opening fourth movement with violins fooling around with what could be described as false starts.
All this is great fodder for Tognetti and his musicians who eagerly look for the unexpected in their attempt to challenge and excite audiences.
And then there is the Triple Concerto, which Tognetti describes as "an interesting experiment in texture."
"It always leaves me a bit puzzled, because essentially it is a cello concerto (Timo-Veikko Valve) with piano accompaniment (Yevgeny Sudbin) and violin commentating (Richard Tognetti), with incredible giocoso, almost operatic orchestral Rossini-like characters coming through."
"It is compact with a clear structure. It has a slow fast opening and the brilliant vivacity of the last movement is like Haydn."
To his publishers, Breitkopf and Hartel in Leipzig, Beethoven offered them "something of a novelty". But was it really a novelty?
In the eighteenth century many composers wrote for odd combinations. There were works such as the Sinfonia Concertante (for piano, mandolin, trumpet and bass) by one of Beethoven's older colleagues, Leopold Kozeluh, and his own teacher Albrechtsberger wrote two Concertos for Jew's Harp and Mandora.
Whilst Beethoven proposed that the work was novel, it was really an orchestral piece with piano trio, although he did more with the cello than is usual in a piano trio. Beethoven's development of the cello as a solo instrument in his orchestral works did more for liberating the instrument from its continuo status, than any other composer.
Whilst some may claim it is a piano trio with orchestra, and Tognetti sees it more as a cello concerto with accompanying piano and violin, the feat Beethoven overcame in producing this work (with its inherent balance issues) and structural challenges, makes it a work that stands alone as a multi-soloist concerto, not surpassed by any later composer.
"So those three works show Beethoven doing totally different things." And that's been the key to the ACO's success for nearly 40 years (25 years under Tognetti's leadership) – doing things differently.
As if three Beethoven works were not enough, but in keeping with doing things differently, a new work was commissioned to place alongside the great eighteenth century master.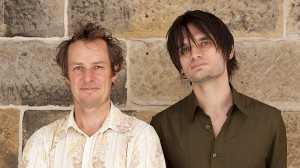 More than a commission, the rock guitarist Jonny Greenwood from Radiohead took time out to spend some months in Sydney in 2012, working with the ACO. Creating huge excitement, the orchestra members have eagerly awaited the finished composition, which will get its world premiere on the ACO European tour in Dublin on October 2, with later performances in London and Birmingham before Sydney.
Enjoying a reputation not only in the rock world, but also as a film composer (Bodysong, There Will Be Blood, We Need to Talk About Kevin, and The Master), Jonny Greenwood is one of those rare individuals who have transcended the classical and rock genres. Being a guitarist and keyboardist in the band Radiohead, he also plays viola, glockenspiel, drums, banjo and the Ondes Martenot (an instrument by which he was totally seduced when he discovered the music of Olivier Messiaen).
Perhaps not unlike Beethoven, Greenwood is able to "balance extreme intensity", according to Tognetti.
When Tognetti wrote to Greenwood and asked him how did he feel being up against Beethoven, the rock legend nonchalantly replied "we're all up against Beethoven".
Tognetti and the ACO members have got to know Greenwood well, as they have performed his music on the 2012 national tour. Popcorn Superhet Receiver was the first foray in Greenwood's compositions by the orchestra. It came from the soundtrack for 2007 film, There Will Be Blood, for which Greenwood wrote the score.
Based on a Phillip Larkin poem, Greenwood's new piece, titled Water delves into deeper territory. The powerful forces of belief, religion, light, spirituality may be dismissed by the English poet whose poem gave Greenwood the inspiration, but other forces in the composer's life also intersect to produce this profound utterance in music.
Like Larkin's questioning of religious thought in his poetry, Greenwood's attraction to more spiritual ideas came about via the music of Messiaen, encountering for the first time Vingt regards sur l'enfant-Jesus (20 contemplations on the infant Jesus) in a London concert.
Greenwood has since declared that his all-time favourite piece of music is Messiaen's Turangalila Symphony (which used extensively the signature instrument, the Ondes Martenot). Greenwood was so taken with the instrument, that he gave a performance on it at the 2010 Glastonbury Festival. Perhaps it is the uniquely ethereal sound the instrument makes which connects with the musician anhttp://www.barrywalmsley.com.au/wp-content/uploads/2014/10/652827-8b3a37b4-4465-11e4-a78a-e78fb0e42ff8.jpgd a sense of spirituality.
All of these twentieth century influences on Greenwood combine to give voice to a uniquely new sound world. Whilst they might be up against Beethoven, Greenwood and Tognetti's ACO continue to excite audience with their collective drive to do things differently.
It is Greenwood and Tognetti's exploration of new music, new ways of presenting their music, new ways to connect with audiences, and fresh ideas for old pieces that continue to place them at the forefront in the concert world.
(This article was first published in Fine Music magazine, October 2014.)