ABC 481 0032
Tin Pan Alley comes alive when Simon Tedeschi meets Gershwin in this sumptuous disc of piano music. You can feel the Manhattan energy in Tedeschi's playing as he delves into the heart and soul of one of the world's greatest song writers.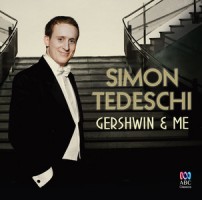 Having spent years living and working in New York City, Tedeschi has an affinity with such music, that he has earned accolades from some of the great jazz masters of all time.
"I just wish Gershwin were here … one of the finest exponents of his music I have ever seen," said Larry Adler.
This recording has so much diversity in terms of original Gershwin music, arrangements and improvisations, that it stands out amongst similar discs.
Perhaps one of the really compelling aspects of this disc is its compilation of some wonderful arrangements of Gershwin classics by luminaries such as Percy Grainger in Love Walked In and The Man I Love, Keith Jarrett in Someone to Watch Over Me, Dave Grusin in his cocktail bar arrangement of Nice Work if You Can Get It and the composer himself (O Lady Be Good!, Strike Up the Band).
Tedeschi has also been inspired to provide improvisations of the favourites Summertime and I Loves You, Porgy, in which he weaves layers of musical ideas seamlessly.
For any piano student, there is always interest in Gershwin's 3 Preludes which appear here, as well.
A little known piece also included is the Rialto Ripples Rag, composed in 1917 by Gershwin and Will Donaldson, who was another American Tin Pan Alley song composer. A song arranger at the Jerome H. Remick Music Publishing Company, Donaldson befriended and assisted the 16 year old George Gershwin with the latter's career when starting at Remick's, and also helped with this rag composition, receiving credit as co-creator of the work.
Finally, there is a live recording of Rhapsody in Blue (with the Queensland Symphony Orchestra conducted by Benjamin Northey), with all the pizazz that one comes to expect from this gem.
In Tedeschi's playing, there is robustness, as well as expressive sensitivity, coupled with a fine technique and mastery of the idiom.