I Musici
ABC 074 3213 (CD & DVD set)
The Four Seasons are so well known, but when the sound of I Musici is combined with the visual element of Venice, then this becomes a real treat. This is a DVD with a difference; the beauty and delights of Venice can be experienced in sympatico with the musicians of I Musici, the world-renowned ensemble from Italy, who traverse canals and byways of the romantic city, and is interspersed with some of the great art works including masterpieces by Canaletto, Guardi and Tintoretto. (A full list of the art works accompanies the printed booklet.)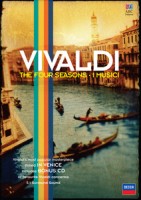 Musicologist, David Hogarth eloquently writes about this famous work and the eminent ensemble, making for very informative notes to accompany the recordings.
"I Musici was instrumental in bringing the Venetian composers, Vivaldi and Albinoni back to the attention of the modern world. Today's 'authentic' music movement may never have been born had the group not first spearheaded the 'Baroque Revival' in the 1950s."
The Anton von Munster film is beautifully produced, and whilst this was recorded in 1988, it is newly released by ABC (from the original Decca release).
In addition, there is a CD of six other Vivaldi works (recorded in 1965), which sound incredibly fresh and vibrant. The selection includes the Concerto for violin and cello in B flat, RV 547, Concerto for 2 violins and 2 cellos in D, RV 564, Concerto in A major, RV 552, Concerto for strings in D minor (Madrigalesco), RV 129, and Sonata a Quattro for strings in E flat (Al Santo Sepolero), RV 130.
The recordings (on either DVD or CD) are truly glorious, and are performed with intelligent sensitivity. These still remain some of the world's finest recordings of these iconic works.