Acacia Quartet
840-1202 (2 CD set)
The music of Elena Kats-Chernin has immediate appeal for the 21st century as it grabs you by the throat and compels you to listen. It is edgy, striking, colourful, and rhythmically taut, with a momentum that is almost unceasing.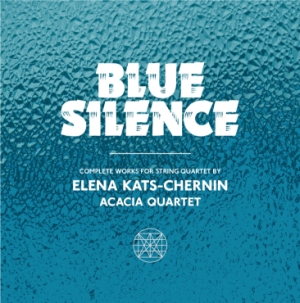 This two CD set brings to the fore the composer's diverse range of expression for the medium of string quartet. These are miniatures covering intense moments right through to lighter entertainment style works.
Some of the titles will give the reader a sense of the range of ideas which are presented: Fast Blue Village, Eliza's Aria, Moody Tango, Mexmer, Road to Harvest, Kwong Song, Luke's Painting, Second Door on the Left, Russian Rag, Butterflying, Pink-Breasted Robin, Blue Silence, Blue Rose, Grotesk (sic), Drinking Song, Charleston Noir, Naïve Waltz, and Slicked Back Tango.
All these pieces reveal her Russian roots, her love of dance and her eclecticism, as well as an optimism that might emanate from her new home country, Australia, giving her an alluring individuality.
Using a range of compositional devices, Kats-Chernin has appropriated music from Anna Magdalena's Notebook in paying homage to the great JS Bach. In so doing, she has breathed new life in her selection of pieces from the Notebook with a bold, modern and somewhat quirky sense (but pensive in the Aria).
Her Silver Suite (Burnished Silver, Silver Pearls, Silver Poetry, Silver Eucalypt) is a collection of small movements, which exhibit an optimism as well as minimal melodic, rhythmic and harmonic gestures, making them truly beautiful in their simplicity.
The Acacia Quartet is comprised of four internationally recognised musicians: Lisa Stewart and Myee Clohessy (Violins), Stefan Duwe (Viola) and Anna Martin-Scrase (Cello). The quartet's warmth of tone and blend is coupled with an infectious passion for this new music, making this recording a stand-out! It is not only exciting music, but exciting playing.
This CD set is to be recommended for every teacher of Australian music (whether they teach piano, singing, strings or any other instrument), as well as every classroom teacher (with its rich array of work which can easily fit into the Mandatory HSC topic of "Music of the Last 25 Years").