After 10 years at the helm of the Sydney Philharmonia Choirs, Artistic Director Brett Weymark is looking forward to another full year of exciting and challenging choral music for Sydney audiences.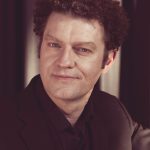 With fifteen concerts scheduled for 2013, the Sydney Philharmonia Choirs will take audiences on a mammoth journey of musical styles, ranging from the late Baroque through to Cole Porter and modern pop.
Sitting down with Brett Weymark immediately following his last concert for 2012, he spoke about his philosophy in directing the choirs (Symphony Chorus, Chamber Singers, Festival Chorus and VOX). Revealing himself as a deep thinker, Weymark's musical intent is to reach out to people right across the spectrum.
"In a growing age of disconnection, music reunites us, in a way that no other activity does – with our society and ourselves," said Weymark.
"The unprecedented availability of music of all kinds is one of the privileges of our time. But this has changed music for us: listening to music is often more of an escape, a solitary activity – almost a withdrawal. And this is where live performance is so crucial; it brings us together."
Every one of Weymark's concert has something to impact its audiences, from the modernity of Eric Whitacre in Light and Gold, to Opera's Triple Threat (a birthday party for Verdi, Wagner and Britten).
In Whitacre's music, audiences are brought together by his haunting sounds, and the wondrous relationship between text and music. In the words of a London critic, "Whitacre is that rare thing, a modern composer, who is both popular and original." (The Daily Telegraph)
"We're incredibly thrilled to be bringing out Eric Whitacre. Choirs seem to love singing his music. He's also a very good conductor. He is one of the few composers who's looking at choral music in this new electronic age with the virtual choir. We're really lucky to be bringing him out. It's a real coup for our company," said Weymark.
Of course, such coups just don't happen, and this is where the imagination and planning skills of Weymark and his team come to the fore.
"It came about over coffee in a Los Angeles café some 3 years ago. We've kept in contact ever since and the planets have aligned."
As one of the most popular composers of our time, Eric Whitacre is solely responsible for the worldwide hit of his Virtual Choir, a phenomenon receiving millions of views on YouTube.
In the Opera House, not only will the choir sing his Lux Aurumque, Five Hebrew Love Songs, The Seal Lullaby and Cloudburst, Whitacre will personally be here to conduct the concert in the Opera House.
"Eric has a small choir (VOX) and a large choir, the big full-throated choir of the Symphony Chorus to work with in the Opera House."
Another engaging concert idea in Weymark's plans will be Tracing Time, the programme that will present choral transcriptions of orchestral and chamber pieces, along with classic pop songs from the last four decades.
It might sound like risky stuff, but this is what the Sydney Philharmonia Choirs does so well – bringing together great repertoire, sometimes in new settings (both musical and spacial) to give audiences a really memorable event in which they feel totally immersed.
It's about what Weymark refers to as the Performance Triangle: the powerful relationship between composer, performers and audience. Knowing whether the right combinations are achieved is always a risk, but Weymark takes his lead from two of the finest musicians.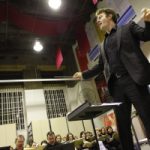 "Anthony Rowley (from The Consort of Musicke) has said 'Music exists in the universe, you are just acting as a conduit.'"
So for Weymark it is about removing himself from the equation.
"Music happens best when it's not about you. It's a wonderfully liberating force to remove yourself from the music – this came to me from Simon Rattle on his recent tour of Tokyo, when he said that if it suddenly becomes about you, you're then in crisis," said Weymark.
The programming for Sydney audiences is about getting the right mix of music that will challenge, surprise and inspire audiences.
In A Garland of Music, the symbolism of flowers is carried through in music such as Britten's Five Flower Songs, Ross Edwards's Flower Songs, and Mealor's Now Sleeps the Crimson Petal. One inspiration for Benjamin Britten was Henry Purcell, and in this concert, Dido and Aeneas will also be performed with Fiona Campbell and a period instrument ensemble.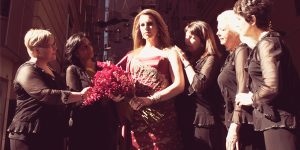 And of course, there is the wonderful partnership with the Sydney Symphony Orchestra in six concerts. Vladimir Ashkenazy will conduct the choir in Sibelius's Kullervo (A Finnish Epic), and Britten's War Requiem, whilst the incoming Chief Conductor, David Robertson will conduct Wagner's The Flying Dutchman and Verdi's Requiem.
Other celebrated conductors will work with the choir in performances of Orff's Carmina Burana, and Howard Shore's The Lord of the Rings: The Return of the King.
The German Requiem by Brahms will see ChorusOz perform. This is a choir that is made up of people from all over Australia and even from overseas. Choristers register to participate and work with Brett Weymark to prepare the music (in German) over one weekend. For all who join for this one-off event, it is a landmark life experience.
Another opportunity for people to join singing with the Sydney Philharmonia Choirs will be the December performance of Handel's Messiah. As it was originally premiered in Dublin with proceeds going to charitable causes, so with this performance the proceeds will be shared with The Children's Hospital at Westmead. Members of the public can simply register to sing Messiah, and no audition is required.
Getting the right music for the venue, then the right music for the choirs, allows Weymark to step out of the way and let the music really come alive.
Not only do audiences have a huge range of music from which to choose, there is also diversity in performance spaces, from the Opera House and City Recital Hall, Angel Place, but also to The Concourse, and venturing also into western Sydney with selected performances at Riverside Theatres (Parramatta) and the Joan Sutherland Performing Arts Centre (Penrith). Reaching out to more people will no longer be a lofty aim. With the choirs' move into Western Sydney, it will be a reality.
Probably the most ambitious programme would be the Architecture of Sound concert, to be held at The Carriageworks. This venture will explore choral music in ways that takes its lead from the space itself. Bach and Purcell will mix with other supremely spiritual offerings from Gorecki and Schultz, and the world premiere of Lyle Chan's Chaconne (a Bach inspired work).
It will be a thrilling year both for the Sydney Philharmonia Choirs and its audiences. Don't miss out on these performances, as there is something for everyone. In the words of Brett Weymark: " There is a burning need to communicate the great themes of life through the special blend of voices, that only a great choir can provide."
For more information, go to www.sydneyphilharmonia.com.au
(This article first appeared in the February 2013 edition of Fine Music magazine.) http://issuu.com/finemusic/docs/fine_music_magazine_february_2013?mode=window&viewMode=doublePage