ABC Classics 476 5039
Rhythmically charged and sporting titles which avoid the "string quartet" tag, these pieces use the abundant forces at the disposal of the string quartet, but allow for greater impact by means of seeking new expressive ideas, whether they be rhythmic, harmonic, melodic, or colouristic.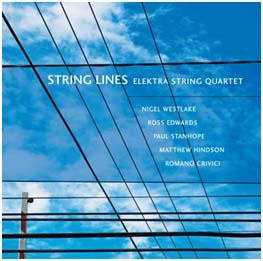 Recorded in 2003 but only released a few months ago, this recording contains music by highly respected composers whose works date from the 1990's: Nigel Westlake, Ross Edwards, Paul Stanhope, Matthew Hindson and Romano Crivici  (who plays Violin II in the quartet).
High Tension Wires (Westlake) comes from the composer's days as a performer in a circus troupe, but more importantly, the title contains other associations in the work, such as violin strings, telegraph wires, or electrical discharges. Westlake's rhythmic irregularities and agitated repetitions help to maintain a nervous edge throughout.
Chorale and Ecstatic Dance (Edwards) begins in a reflective way with beautifully homogeneous tones, which break into rhythmic and repetitive short phrase bursts.
Again, repetitive patterns work well in PhoSpherics (Stanhope) which also uses saxophone solo lines for melodic and tonal contrast in an improvisatory manner.
In Hindson's Technologic 135, double stopping in the first movement's opening cello solo collide with dissonant harmonics over a repetitive drone in the second movement, whilst the third produces a satisfying resolution to the previous tensions.
Composers are constantly searching for new sounds, and perhaps, even new meanings to life. Attempts are made to impart this yearning into their works, and Crivici has successfully done so in his sensory Mantra. Using bass clarinet to provide sub-terrenean drones, isolated notes and melodic splashes, the writing is full of a certain questioning and evocative twists.
These works are all major additions to the genre, and show hugely divergent responses to writing for string quartet. This ensemble's exploit of every tonal opportunity has created a rich and energised performance.
(This review first appeared in the February 2013 edition of Fine Music magazine.) http://issuu.com/finemusic/docs/fine_music_magazine_february_2013?mode=window&viewMode=doublePage