Ian Dorricott & Bernice Allan
ISBN 97800702772212 & 9780170221252
Cengage Learning Australia
A substantial series of texts for music educators in this country is the In Tune With Music books, now in its fourth edition. Able to take students (and teachers) through Stage 5 music (of the NSW Board of Studies course), these books are jam-packed with resources and teaching ideas.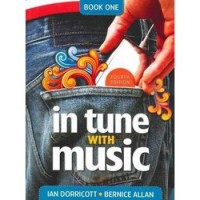 Book 1 covers five topics: World Music, The Musical, Australian Music, Music's Classic Hits, and The Pioneers of Rock. Breaking each of these units down, there are plenty of examples and sub-units within to engage students and teachers, alike.
In World Music, the authors have ably covered African, Chinese, Irish, Polynesian, Andean, Caribbean and Australian Aboriginal music.
Australian Music itself is broken into two sections, Art Music (covering solo piano, chamber, orchestral and choral music) and Popular Music (Rock, Pop, Dance, Blues and Roots, Country, and Jazz).
Music's Classic Hits sounds like a chapter continuing with Rock & Popular Music, but instead it is covering the "hits" of the Baroque, Classical, Romantic and Twentieth century.
Book 2 includes units on Jazz and its many styles, Instrumental Music, Rock since 2000, Vocal Music, Australian Art Music of the Twenty-first century, and two new units since the last edition, Orchestral Music for the Stage and Screen, and Arranging.
The exceptional aspects to these useful texts are the new contemporary listening examples, including many by Australian composers (a CD set is additional and complements the text), revision sections, margin notes and glossaries.
The broad range of listening, performance, composing, score reading, writing and aural dictation activities ensures that all parts of the BOS syllabus is manifestly covered.
In addition to the CD set, there are Teaching Manuals and Score Reading Books, which accompany the student texts.
Never again is a teacher left searching for material or ideas on how to bring the study of these units to life, if they use In Tune with Music. These are colourful, readable, up-to-date, and engaging texts for all students, with carefully chosen set works.