Emma Matthews
Melbourne Symphony Orchestra
Conducted by Benjamin Northey
ABC 481 0863
The profound poetry of American, Emily Dickinson (1830-1886) is fertile ground for expressive musical treatment. Aaron Copland (1900-1990) visited Dickinson's New England home, and through his research gained much insight into the reclusive poet. He was considered to be the only person who really understood her thoughts, and could marry her words with music.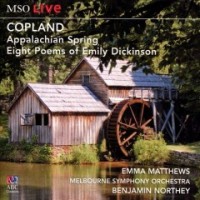 This live recording contains eight songs, which mostly deal with some aspect of death. (The poems, which Copland set, were Nature the gentlest mother, There cam a wind like a bugle, The world feels dusty, Heart we will forget him, Dear March come in, Sleep is supposed to be, Going to Heaven, and The Chariot.) The morbidity of the poems combined with Copland's incredible orchestral colouring is given an intense tonal hue by both singer and orchestra that is both compelling and haunting.
Acclaimed Australian soprano, Emma Matthews shows her technical and artistic skill in interpreting these poems with a poignant nuance, as she delves into the richness of the text.
For many, Copland is the authentic American voice, and in Appalachian Spring, that essence is captured: the wide-open skies, the pioneering spirit and values of simplicity.
Collaborating with choreographer Martha Graham, Copland produced the music for a ballet, which explored themes of solidity, sobriety, industriousness, family, and community spirit. It effectively conjures sounds connected with Puritan values (particularly in the use of the tune Simple Gifts) during this time of Revivalist and Shaker influence.
The music is so quintessentially American, full of "the wide-open folksy breeziness, the stoic heroism of melodies constructed starkly from fourths, (and) the simple colours of the orchestration", writes Gordon Kalton Williams.
This disc forms part of the successful MSO Live series, and was recorded in concert at the Arts Centre (Hamer Hall) in June 2013. A perfect coupling of two Copland works, the MSO, under the direction of Benjamin Northey, creates superbly a colourful, and at times sparkling performance, imbued sympathetically with an emotional core.