Combining the old with the new, the traditional with the contemporary in music is no mean feat. But for Stephen Cleobury, Director of Music of the Choir of King's College, Cambridge, this is an essential element of remaining at the forefront of choral singing in an ever-changing world.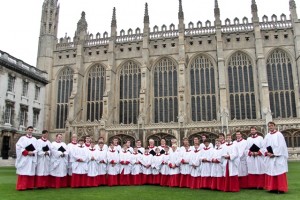 Whilst he and the choristers of this world-famous choir sing daily in the beautiful chapel of King's College at Cambridge (a splendid example of late Gothic architecture which goes back to the 15th century), surrounded by some of the finest medieval stained glass in the world, Cleobury is determined that the choir will not remain couched in the past.
Although the choir was formed under the patronage of King Henry VI, the purpose being to sing the daily services in the chapel, the choir today has a world-wide reputation as being at the forefront of choral performance, with a recording output in the dozens, numerous overseas tours, as well as performances in London and elsewhere in the UK.
As director, Cleobury has seen enormous change. Adhering for the most part to its traditional tenents, Cleobury, himself is responsible for much of this shift, most notably to the singing of new repertoire by living composers.
"When I came to King's in 1982, one of the very big tasks that lay before me was the Festival of Nine Lessons and Carols, which is probably the occasion in the year when we're heard by a large number of people across the world. This, of course is a very traditional event, but in my opinion it is important to nourish it with new music, so that it doesn't become a museum piece," said Cleobury.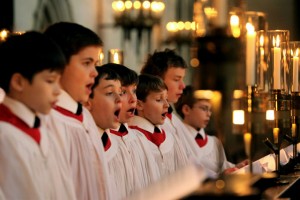 Indeed, the choir's worldwide reputation hinged to a large extent on the annual broadcast of this very Festival of Nine Lessons and Carols (heard by tens of millions of people).
"That's the same for our regular day-to-day repertoire for our chapel service. But I thought that our Christmas eve service around the world was a good shop-window, to present newly commissioned works."
The first composer to be commissioned was Lennox Berkeley, and amongst those who have followed him are, Thomas Adés, Judith Bingham, James Macmillan and John Rutter, to name but a few.
"I have commissioned new music every year since 1983, mostly, for understandable reasons, composers in the UK, but I've also looked abroad. So, we've added to contributions from America, Finland, Estonia, and this year from Switzerland, but importantly we've had as many as three Australian composers which we are performing on the forthcoming tour."
Cleobury acknowledges that each of these composers, Peter Sculthorpe, Carl Vine and Brett Dean are very well known in Europe and in the UK.
"I see it (these three Australian composers) as part of that tradition, and what they have written for us here, fits in very well with the ethos of music that a choir like King's is used to singing. That's not to say that they are not highly original works, and each one is highly distinctive."
Australian composer Carl Vine wrote the carol for the 2012 service, Ring Out, Wild Bells, based on a setting of Tennyson's poem. For Vine, the poem "inventively encapsulates the core Christian principles of community, generosity and kindness".
The commission for the Festival in 2007 went to Brett Dean and his composition, Now Comes the Dawn uses a poem by Richard Watson Gilder.
Peter Sculthorpe's The Birthday of thy King was the first Australian carol to be commissioned and included in the famous Festival. Dating back to the late 1980s, the carol commission came about simply as Cleobury was very fond of another Sculthorpe carol, Morning Song for the Christ Child, and he felt he would really love another piece by the iconic Australian composer.
Cleobury is proud of the fact he has enacted change and endured the storm of controversy over the introduction of new (or modern) pieces to the choir's repertoire.
"When I started doing this annual commission, I used to get quite critical letters from people who said, 'What are you doing ruining this great tradition with horrible modern music?'"
"But in fact, that has died down very much now. I don't get that sort of letter anymore. I think people have got used to the idea that there is going to be a new commission, and it's got to the point now where people say to me 'Who is writing the carol for this year?'"
Cleobury admits that it has been quite a nice journey and although he received some pressure in the early days from publishers, things have changed even there.
Nowadays, as the tradition of the annual commission has become better known, publishers will write in with suggestions, but Cleobury confesses that he hasn't got a list of the 25 most famous contemporary composers, and that he puts them in some order and works through the list.
"I've done this (chosen who's to be commissioned) in a more personal and interesting way, on the basis of some contact with a particular composer I've had. Years ago, I met Judith Weir at a Christmas party; I met Harrison Birtwhistle at the Royal Albert Hall while we were waiting for a Promenade concert to start. There's been all kinds of different ways in which I've come across different composers."
"In the case of Carl Vine, I met him through the Musica Viva connection. I haven't met Peter Sculthorpe, but before I arrived at King's, I became very fond of a particular carol and simply wanted another one from him. Brett Dean's daughter actually studied in Cambridge, so that was part of the connection there."
From singing at the Chapel of King's College, Cambridge to such renowned concert venues as the Royal Albert Hall in London, and the Sydney Opera House, the choir must manage carefully the variances of hall, and even performing in front of a concert audience.
The choir's sixteen boy choristers, aged between nine and thirteen years, fourteen male undergraduates, and two organ scholars, has become quite adept at touring.
Noting that there are real differences between singing in the Chapel for a service, where the purpose is for the music to elevate the liturgy, and the concert platform, where the choir sings directly to an audience, Cleobury claims he doesn't make massive changes when singing in a new venue, but rather reacts sensitively to the acoustical spaces he encounters.
"I like to think we don't have to change very much, because it is perfectly true that the Chapel acoustic at King's is a very distinctive one, with its 4-5 second reverberation, but I work very hard on a daily basis to make sure that that doesn't make us lazy."
"It is a very stern discipline in one sense, because if you send out into the building a sound that is not well blended or tuned, then you have to hear that sound for the next 4 seconds or so. Precisely because there is this resonance, it can be tempting to let the building do too much for you, and not give your singing the energy and specifically the sostenuto that it needs."
On contemplating his two concerts in Sydney (one in the Opera House Concert Hall, the other at City Recital Hall, Angel Place), he gives some good advice for any choir director
"There are two things I keep telling the choir when I get into a concert venue: if it is a really big venue, such as the Opera House, you mustn't think that you have to sing 2 or 3 times more loudly to fill the space. You lose all sorts of things, like blend and quality. We do quite a number of concerts in the Royal Albert Hall in London, and the truth is that soft singing carries rather well in that acoustic. The second point is to make sure you are singing a sostenuto line as there is no King's College acoustic to carry if you are not.
There are two programmes on offer in Sydney. A mixture of early English and Italian pieces sit alongside nineteenth and twentieth century English works, and in one concert, Fauré's timeless and touching Requiem, accompanied by the College's Organ Scholar.
Along with the three Australian works, programme 1 includes Hear my words, ye people (Parry), Sing Joyfully 
(Byrd), Dum complerentur 
(Palestrina), Hymn to St Cecilia, Op 27
 (Britten) and Requiem in D minor, Op 48 (Fauré).
The second programme presents an intimate number of works from early music through to the modern Australian works: Sing Joyfully (Byrd), Dum complerentur (Palestrina), Jehova, quam multi sunt hostes mei, Z135, and I was glad when they said unto me, Z19
(Purcell), Cantate Domino canticum novum, SV292 and Claudio Adoramus te, Christe, SV293 (Monteverdi), A Song of Wisdom, and A Song of Peace from Six Hymns, Op 113
(Stanford), and Hymn to St Cecilia, Op 27 (Britten).
On this Australian tour, the choir and Dr Cleobury are not only presenting a feast of the finest choral music, but also nurturing a tradition which has been inherited from the fifteenth century, all the while straddling the twentieth century with the inclusion of music of the present day.
(This article first appeared in Fine Music magazine, July 2014 issue, and can be found online at http://issuu.com/finemusic/docs/fine_music_magazine_july_2014/0 )