Music and Lyrics by Gavin Lockley
Lyrics and Book by Ann Blainey
The Metropolitan Orchestra & The Rum Corps Choir
Sarah-Grace Williams (Conductor)
Simon Tedeschi (Solo Pianist)
KOTA001
The writing of a musical is an extraordinary feat by anyone's measure. Australian stories abound which lend themselves to the musical theatre genre. In the story of Charles Kingsford Smith (Smithy), Australia's greatest pioneering aviator, is found a dramatic story of epic proportions, most notably, the first crossing of the Pacific Ocean from the United States of America to Brisbane, taking 10 days in 1928.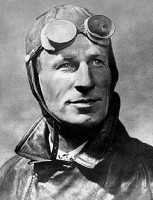 In Australian history, Smithy is one of its greatest heroes and most iconic personalities, whose name now adorns Sydney's airport as a mark of permanent tribute to this great aviator. His tragic death in a missing plane incident over the Andaman Sea in 1935 turned this Aussie hero into a legend.
This recording presents the songs to be found in the yet to be staged musical, and celebrates the aviator's erstwhile achievements, his fame and tragic death. (The first concert staging of the musical was held in March 2014 at City Recital Hall, Angel Place, Sydney, and 3 workshop style performances were given in Nov-Dec 2013 at Trackdown Studios at Fox Studios, Sydney.)
Without seeing the visual spectacular that could be realised on stage, the recording reveals an engrossing tale unfolding orchestral beauty (commencing with the romantically lush King of the Air Piano Concerto), juxtaposed with Big Band episodes, Australiana passages (including a retake on Waltzing Matilda), ballads (Drink 'til You Drop), dramatic film music sequences (Crossing the Pacific), and great musical theatre pieces, such as I Want to Fly (the standout solo song with the marvelous voice of Daniel Belle).
The composer has a gift for this genre, being a skilled songwriter and orchestrator, seeming to know what exactly will work for a modern theatre audience. The songs here certainly provide accessible solo material for any musical theatre singer's repertoire.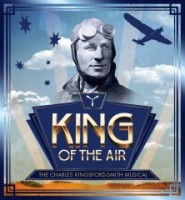 Slower reflective numbers, such as Bring My Boy Back to me (sung by Meredith O'Reilly), I Don't Want a Hero, and Down the Sweep of Ages (both sung by Renae Martin), contrast cleverly with the inspirational anthem Hang Out the Flags (sung by Philip Dodd). There is the obligatory love duet, There's Magic in the Air Tonight (Daniel Belle and Renae Martin), and even a Gershwinesque song, New York Ticker Tape Parade.
An operatic moment provided by international soprano Yvonne Kenny AM appears in I'm Coming Home to Australia, and easily could have been plucked out of an earlier era and sung by the likes of Dame Nellie Melba, with its distinctly nostalgic air.
Showing hints of Frank Wildhorn or Stephen Schwartz, Lockley has created a stunning duo in I Can't Turn Back (sung by Daniel Belle and Renae Martin).
Now, the next big challenge, for composer Gavin Lockley and his team, is to mount this as a fully staged production. From the songs on this disc, there seems to be much merit in such a proposition, thus bringing the heroic achievements of our greatest aviating legend to the stage for all to see.