Konzerthaus Kammerorchester Berlin, Andre de Ridder (Conductor), Daniel Hope (Solo Violin); DG 481 0044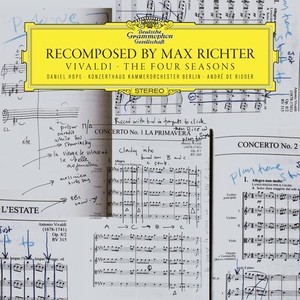 It may seem an absolute sacrilege to think that Vivaldi's The Four Seasons needs to be re-composed or re-invented in some way, thus it was with some trepidation with which I listened. However, the playing of the score (its original, along with the modern incarnation) was superbly rendered by musicians of immense skill and intellect. This new version however, is also not pretending to be anything other than a new twist on Vivaldi, through the eyes and ears of its German-born British "composer", Max Richter.
"It's part of our musical landscape. I wanted to make the piece, because I loved Vivaldi. So it's my way of having a conversation with Vivaldi", is how Richter defends his work.
This conversation serves to illuminate the old with the new, making it a real rediscovery for any listener. Whilst conserving the essence of Vivaldi, there are other moments which are as though they have been put through a time machine throwing Vivaldi's well-loved work into the 21st century. The notion of patterns in music, evident in Vivaldi harken not only to a minimalist, but ambient approach.
Just when one is re-adjusting to the familiar, Richter can subtely propel the listener into another aural domain. It is not as jarring as one might expect though, and certainly has merit in terms of an accessible, contemporary performance of an old master.
(This review first appeared in Fine Music magazine June 2013 issue.)