Biding fond farewells are always filled with heart-reaching moments. This will be no further from the truth when the acclaimed Tokyo String Quartet makes its final tour of Australia this month.
Established since 1969, the Quartet has attracted accolades across the world for its "exemplary chamber music" (The New York Times). Making the decision to say farewell to its audiences and the success that the Quartet has enjoyed was not an easy one.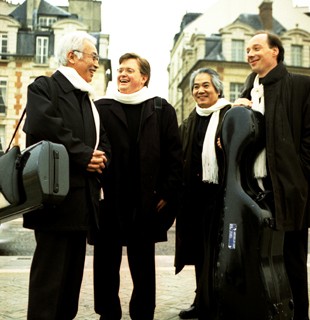 But for cellist Clive Greensmith, there is life beyond the Tokyo String Quartet.
Speaking from Warsaw on this final world tour, Greensmith reminisced about the 14 years he has worked with the Quartet, and what is on the horizon after the tour for all four members.
"Speaking on behalf of the whole group, none of us will cease to be involved in our first love, which is chamber music. We'll be able to participate as musicians in varied ways."
For the Quartet's founding member, violist Kazuhide Isomura, life will be split between teaching chamber music and viola as a visiting professor at his alma mater, the Toho School of Music in Tokyo, as well as taking up a new position at the Manhattan School of Music in New York, where Greensmith also teaches.
Second violinist, Kikuei Ikeda (who joined the group three years after its formation) will continue (along with Isomura) some kind of relationship with the Yale School of Music, where the Quartet has been in Residence since 1976. Ikeda will also teach at a private university in Tokyo in a similar capacity as a visiting professor.
Greensmith is both melancholic about the passing of something that was truly great, but optimistic also, looking forward to a new era for himself and the other Quartet members.
"First violinist, Martin (Beaver) and I will be moving to Los Angeles full-time to take up new positions at a wonderful emerging school called The Colburn School, which is situated in the downtown area, right opposite the Disney Hall. It is a conservatory that is only nine years old, and a school that has done remarkably well in a few years.
"He and I will be co-directing the string chamber music programme and we will also have our own students. So we'll begin that move to LA full-time in the summer, after the Quartet disbands.
"And we'll also have our own piano trio. So there will be a group that will emerge from the TSQ, and we're still thinking about who will be the pianist with whom we would like to play.
So unlike many who might be thinking of retirement, for Greensmith there is still much to do and to explore. Understandably, seeing the world is not high on his list.
"Touring has been a big slice of my life. I have been very fortunate to have played all over the world. It has been a real privilege, and way more than I ever expected, when I was thinking about my future in my 20s.
Not living in a hotel suite and seeing a different city every couple of days will be a welcome change. "People underestimate how difficult it is to travel. Even on this trip from New York to Warsaw, my luggage did not arrive, so you're always a little anxious about the things that are important, even just having the music with you on arrival for a concert.
There is no possibility that his cello would go missing, however, as it occupies a seat on every plane next to him when he travels.
Greensmith's cello belongs to what is known famously as the Paganini Strads, two violins, a viola and cello, which range in age from 269 to 325 years of age, and owned by virtuoso, Niccolo Paganini until his death in 1840.
The "Strads" have been through a series of collectors, but since 1995 have been owned by the Nippon Music Foundation, which loans them to the Quartet with the only caveat being that they are always played together.
That means that when the Quartet finally disbands, the instruments, which have been inseparable to the Quartet members, will be returned to the Foundation.
"It is going to be a wrench saying our farewells to these wondrous instruments, and there's no getting around that fact. It is a little more bearable knowing that we all have our own personal instruments.
"The Strad cello I have been using, and to which I have grown very familiar and close, that is 14 years of constant use, is really a part of me. It has taught me what I like in cellos, what I want to find in terms of sound.
"I'm now at the point where I'm confident that I'll be able to re-sculpt that sound on another cello. I was very lucky to find a modern Italian instrument from the 1920's, which I really love. It's the same style of instrument – the famous B Form Strad Cello – I'm so glad I have that, so that when I give the Strad back, I will feel relatively comfortable. I have been using the new one to break myself in, and it won't be such of a wrench when I have to give the Strad back.
No doubt the Paganini Strads will be closely watched by a world audience to see to what group they are loaned by the Foundation. Whilst consoling himself about the fate of giving up these beautiful instruments, Greensmith also acknowledges that they must be used.
"We all recognise that they (the Strads) should be given to another group. These are instruments that should be played, and honestly, nothing would make me happier than to know a deserving group can enjoy them and have an intimate relationship with them as we have done. They should be played, not kept in a bank vault, so I am happy to see them go to a group that will exploit them and enjoy them.
It may even be possible that on a future tour for Musica Viva, the Paganini Strads may once again be heard by a Quartet, yet unknown.
Greensmith, along with his Quartet colleagues and friends are greatly looking forward to their visit this month to Australia. Their previous visits have been met with unanimous praise from critics and audiences alike.
"We love playing in Australia", said Greensmith.
"Of course, we love playing in Sydney. Angel Place is absolutely fantastic". And then not to appear too focused on one city, Greensmith lists off all the venues in which he has performed with insightful anecdotes about the cities, its venues and audiences.
"Australians have tremendous passion and enthusiasm for chamber music.  They are warm, attentive and knowledgeable.
"There is more variation in Australia though, than when we visit, say to Japan, where cell phones and coughing never happens…. But then, in Madrid for example, the audiences are almost like attending a soccer match."
Having travelled the world and played in some of the greatest concert halls on offer, it is comforting to find such praise and love for Australian audiences. Greensmith believes that the audiences owe something to Musica Viva, the company that contracts and tours such artists as the Tokyo String Quartet.
"Because the roots of Musica Viva are so deeply connected to Europe and the emigration from Europe, my take is that the audiences, which we find and have come to love in Australia, are every bit as erudite, enthusiastic and passionate about chamber music as the finest audiences in North America and Europe", states Greensmith.
He acknowledges that there is a fervent, but healthy nationalism evident amonst Australian audiences, and notes that on more than one tour they have played music by Carl Vine and Peter Sculthorpe.
The Quartet No 16, by Sculthorpe, was commissioned by Musica Viva, for the Quartet's 2004 Australian tour, and this emotive work will be on the current tour's programmes.
"It was an extraordinarily topical piece, being inspired by letters from asylum seekers; they were very personal."
Greensmith quickly points out that the Quartet members were not asked to comment on the politics of the piece, but were simply to take it upon face value about its musical worth.
"We loved it and found it very powerful, and it spoke to us. We were very happy to work with Peter (Sculthorpe) on the piece, and must say, it was extremely well written for the group.
"We saw it as our role to be powerful advocates for the piece, but also acknowledge that he (Sculthorpe) has written over 16 string quartets, and his is a very important body of work for the 20th and 21st century repertoire for string quartets.
For some, there might be questions as to whether works for string quartets will continue in this modern age. Greensmith has no doubt that they will, albeit prove a very difficult path for any composer.
"Writing for String Quartet is an extremely exacting medium; it is very hard for composers to write for string Quartets as there is no hiding behind orchestral colour.
"As well, there's an almost over bearing presence of Haydn, Beethoven, Schubert, Bartok and Shostakovich, and composers must be constantly measuring themselves against that incredible body of repertoire.
"It is an exacting task. For string players, there's very little chance to hide – make "filler" music that's going to convince people. Composers must almost feel naked as there's not much trickery that you can use, if you have a lack of ideas. It's an awfully big responsibility.
For many performing artists, leaving a legacy is important. The Tokyo String Quartet has left an enormous legacy of memorable concerts, and a prodigious recording output. But perhaps, it is best for Greensmith himself to sum up how the group might like to be remembered.
"I would suggest that the group be known for its homogeneity of sound; like a fine choir. It is the internal balance of the Quartet at which we've worked very hard, to make sure that the tonal picture of the group is something that we feel right about. That means a great homogeneity of sound and clarity of voicing, so you can hear the main line wherever it is; the balance is good, so that you can distinguish the individual voices together, as well as a sense of harmonious working together.
"The balance between the individual and the corporate identity of the group is always important. We never "shout" when we play. We like to play with a tremendous range of sound; we like to explore the softer and more intimate range of sounds in the dynamic spectrum. We never grandstand, that is, superimpose our egos on the music. I think the Paganini instruments have allowed us to realise that such a philosophy in a successful way. Each instrument has a very distinct timbre of sound, and there's a certain warmth and clarity and precision that the instruments have. It's not a question of loud or soft, but question of character.
Just as each of the Quartet will miss his equally famous instrument, so collectively they will miss their audiences who have adored their playing for over four decades.
(This article first appeared in the May 2013 issue of Fine Music magazine.)
http://issuu.com/finemusic/docs/fine_music_magazine_may_2013/1