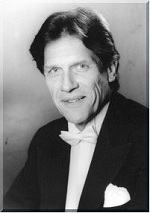 The author, known to many as one of Australia's finest conductors, can really tell a story, not only through music-making with orchestras on a stage, but in written form.
This book is in two parts: the first comprising the bulk of the book with recollections of his life and career dating back to the mid-1940s in Brisbane amidst war-time.  Thomas writes that the book of recollections is "unashamedly anecdotal and includes career experiences, stories of people who influenced me, backstage dramas, the perils of travel, and a range of incidents which occurred along the way."
He reveals how as a young boy of 10 or 11, he was cpativated by music; a passion which would shape his whole life to come. How did this young Brisbane boy become a world recognised conductor? This account is full of stories which show a rich life, filled with extraordinary and contrasted episodes. There are moments of spectacular grandeur juxtaposed with the simplicity of concerts in the Australian outback, from monumental concerts with international orchestras through to humble childrens' concerts.
Broken into small, very readable sections with titles like " Mini Scores, Page Turns and Panic Attacks" and " Christianity, Chalis and Cricket", to "Conductros Rarely Win", Patrick Thomas has had an amazing life, filled to the brim with events, people and music of such diversity. He expresses all this in this short addictive collection of stories in a way which is heart-felt, intimate and generous.
The second part of the book is an engaging diary account a a trip taken with pianist Geoofrey Tozer between 14-25 January in 1990 to Gorbachov's Russia. At first this trip sounds like a disaster with poor air travel, hotel accommodation and not so pleasant food. There is sufficient detail as one might expect in a diary, from what one ate, heard in rehearsal, non-functioning bathrooms right through to the exchange of gifts. The contrasts were made well though between the first place visited, Voronezh and the second, Moscow.
There were comments also about the music performed the orchestras themselves and the success of the concerts, but it was the human glimpses of this great conductor as he went through his daily life in a foreign country that were illuminating.