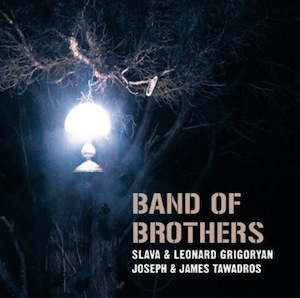 There are a number of aspects which make this disc intriguing. Firstly, it's exotic musical artistry, as it blends influences of Arabic, Spanish, and world musics with, at times, a sense of classical technique, is an aural delight. Secondly, we hear two pairs of brothers combining their passion for music in an extraordinarily creative outpouring.
This is ground-breaking music as the four cross cultural and stylistic worlds, from world music to jazz, classical and traditional music.
From the captivating opening track, Anubis, there is a youthfulness, vitality and dynamism to the performers' virtuosity. Ten Ten, Freo and Sahara all display intricate and changing metres, whilst Journey is more contemplative in mood. Moon Beam is hypnotic contrasting with the energetic and assertive Lucca.
Improvisation has been masterfully integrated with carefully structured renderings, such as the arrangement of The Beatles's Blackbird, which holds the listener for more than 10 minutes.
Slava Grigoryan (winner of 2 ARIA awards for Best Classical Album – Sonatas and Fantasies, and Saffire) has appeared with many of the world's leading orchestras, including the London Philharmonic, BBC Concert, Sydney Symphony and Israel Symphonies. Brother, Leonard has performed with many prestigious orchestras, including the Melbourne Symphony and Queensland Symphony Orchestras, and has collaborated with artists such as Jane Rutter, Darryn Farrugia, and Jeremy Alsop. Joseph Tawadros is a master of the oud, whilst brother, James is a world-class percussionist specialising on the req (an Egyptian tambourine) for which there is a solo (and self-composed) track on this disc.
Not only mulit-cultural, but multi-instrumental, these brothers are heard on classical, electric and 12-string guitars, guitar synth, oud, violin, bendir, cajon and req. Most of the tracks are composed by Joseph Tawadros, with Journey written by Leonard Grigoryan.
All four performers are known in their individual right (all being ARIA nominees), but this is the first time all have appeared together on the one recording. It could be described as one super group as the two pairs of siblings display sibling revelry at its best!