ABC 482 1059
It is impossible to suggest that one CD could contain all the highlights of an extensive recording career of Richard Bonynge, one of the world's great maestros.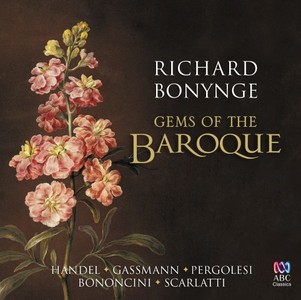 This CD however, attempts to capture some of the gems of the Baroque era which Bonynge so loved and revived. Masterpieces (no less than seven overtures) by Handel, Scarlatti, Pergolesi, Vivaldi, Gassmann and Bononcini, along with six arias sung by the incomparable Renata Tebaldi, make this a splendid foray into both the familiar and new.
Composed by Gassmann in 1767, the Overture from L'amore artigiano (Artisans in Love) is engaging with its sparkling vigour. Gassmann wrote an opera nearly every year for the Venice Festival, and is known as a composer transitioning between the Baroque and Classical periods.
Handel's Berenice, one of his more than 40 operas, was written in 1709. Its Overture is an extended movement featuring contrasting slow and fast sections. Considered a failure (the opera was performed only 4 times in only one season at Covent Garden), it has been revived throughout the world in recent times.
Ariodante (1735) is another Handel opera that fell into oblivion for 200 years. Its Overture is a fine specimen of Handelian glory, which includes a charming harpsichord solo section, and later an oboe and bassoon duo. Similarly, Faramondo (1738) was not revived after its initial short run until 1976.
Sosarme (1732) experienced more success with its London audiences, and this Overture retains much of the sparkle and elegance, typical of Handel.
Rinaldo (1711) was the first opera written by Handel when he arrived in London. Its Overture contains three contrasted sections, the slow (middle) section featuring a poignant oboe melody.
The oratorio, Solomon, written in 1748, was richly orchestrated (against the traditions of the day) requiring larger forces of woodwind, percussion and brass.
A great interest of Bonynge was ballet, and here, a set of keyboard sonatas by Domenico Scarlatti, arranged as instrumental music by Tommasini, is known as The Good-Humoured Ladies. The orchestral setting of these works, therefore, sounds more nineteenth century, than Baroque, however, its inclusion on this recording is a delight, just the same.
These orchestral works were all recorded with the renowned English Chamber Orchestra. The six arias, sung by soprano, Renata Tebaldi were with the New Philharmonia Orchestra.
Tebaldi's vocal artistry is well-known in lyric and dramatic roles. She sings with an evocative pathos in Handel's Serse (Xerxes), Ombra mai fu, Vivaldi's Piango, gemo, sospiro, and Handel's Verdi prati, from Alcina.
More agility and charm are found in Bononcini's Deh piu a me non v'ascondete, and Alessandro Scarlatti's Le violette, from the 1694 drama Il Pirro e Demetrio, whilst comic colouring is a real joy in Pergolesi's Stizzoso, mio stizzoso from La serva padrona.
Tebaldi and Bonynge worked together on a number of occasions, not only in concert, but also in recording solo albums of arias. This is a truly delightful recording of selected operatic instrumental and vocal excerpts from the Baroque era, which have been revived by the great Maestro Bonynge.