LEARN ROCK & POP
(Reproduced with permission from Australian Musician)
Music is supposed to be enjoyed. Why, then, have traditional music education methods been so… well… tedious? Finally the penny has dropped for a learning institution. Trinity College London, which has been operating in Australia since the late 1800s, now offers a ground-breaking syllabus which young musicians who are into contemporary music can really relate to. It's called Rock And Pop, and is a graded exam system in guitar, bass, drums, keyboards and vocals. The difference between this syllabus and any other contemporary music course is the materials used for study. Students enrolling in this performance-based program are able to study music from an impressive roster of artists such as the Rolling Stones, The Kinks, ABBA, David Bowie and Joni Mitchell, through to modern day rockers like Muse, Radiohead, Kings of Leon and Rhianna. Songs have been carefully selected to demonstrate specific musical skills, such as mandolin tremolo in 'Knights of Cydonia' by Muse, funk drum grooves in Cee Lo Green's 'Forget You', and double-stopped harmonics in the bass line from Rage Against The Machine's 'Born of a Broken Man'.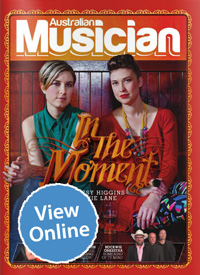 Trinity College London has been able to offer such an inspiring musical experience due to an association with two of the world's largest publishers of contemporary music, Faber Music and Peters Edition London. Barry Walmsley, who is National Manager of the Australian arm of the international College, is excited to have the publishers onboard. "It's a commercial arrangement in a sense that they are providing all the copyright provisions for us. The two of them are the largest and most outstanding out of a handful of international publishers, so we're very fortunate to have them."
It is the great range of music available in this syllabus which is the real point of difference between this and any other course offered. "Our new music publications use real songs," said Walmsley. "They are not contrived music of a particular style for the purpose only of an examination. They are from real artists and bands. The other thing is that Trinity comes with that vast history in terms of external assessment, so they know how to put something together which is appropriate at the various levels. I think it's the real music which is the number one standout that students and teachers will really enjoy. Plus it is very current music, so the challenge for Trinity will be to keep that music and the publications fresh. In this style, things can be quite transient but having said that, there are standard, classic rock songs there as well."
It is important to outline that Trinity College London doesn't exist in Australia in a bricks and mortar sense, and the Rock And Pop syllabus is an external assessment program, not one where students study from a central location. Students are required to work with their own teacher, in their own space and time and success very much depends on a student's own discipline and work ethic. "It really works well for those who are goal-directed or their teachers can motivate them," explains Walmsley. "It is totally up to the student how long they might take for each grade and where they go with it. It is not a course in the sense of going to a music school or academy. So it's a matter of them applying for an examination in a particular session we might offer. What we have are examiners who come out, the majority of them from the UK. They have been standardised and carefully monitored and put through their paces. They come out from the UK, travel around Australia and examine the candidates who present themselves."
The traditional road to rock'n'roll success has always been paved with a mixture of talent, hard work and an ounce of good luck. Have the ground rules changed so much that you now need formal training to play rock and pop music? "It's an interesting question," said Barry. "In the past it was a genre or style that people just did and had fun with. I'm not one who says that exams have to be onerous. These exams are designed to continue that fun element but give to students and parents and teachers a benchmarking system. I think in today's society, we're very keyed into accountability, progress and all of those kind of things which may mean an assessment like this is appropriate. The interesting thing about Trinity's point of view is that they have come at it from the angle of how students in rock and pop actually learn. They are not trying to overlay a traditional system of assessment which may work for classical pianists or vocalists. Therefore you have such things as session skills, improvisation and playback (so that they are dealing with their aural skills), and this is reflective of how students learn in this type of music."
The Rock and Pop syllabus from Trinity College London is an enticing prospect for anyone wishing to gain internationally recognised music qualifications and in the process, play some of your favourite songs. No prerequisites are needed and you get to choose when you are ready for your examination. "I think the syllabus is groundbreaking because of the use of current material. I think it's groundbreaking because they address an area of assessment which is perhaps not understood, or is crying out for it," said Barry Walmsley in summary.
To find out more or obtain a FREE syllabus, contact: Barry Walmsley, National Manager (Aust) – [email protected]
Greg Phillips