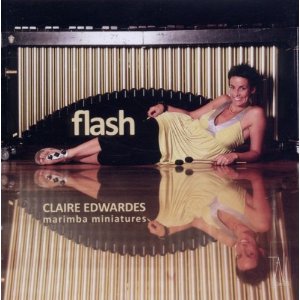 Originally a pianist, Claire Edwardes is now one of Australia's most highly acclaimed percussionists. On her second recording for the Tall Poppies label, Edwardes has compiled a selection of 33 short pieces, some from her days as a fine pianist (Bach, Schumann, Shostakovich, Kabalevsky, Tchaikovsky, Bartok and Corea) and others are by Australian composers, some written especially for her by such composers as Elena Kats-Chernin, Stuart Greenbaum and Daniel Rojas.
JS Bach may seem an odd choice for the marimba, but the Lute Suite in E minor BWV 996 (Prelude, Allemande and Courante) has a clarity and expressive quality that is most appealing. Such choices also remind listeners of the performer's origins and the way in which her musical understanding has been shaped.
Bartok's Mikrokosmos (Nos 87, 113, 97), Shostakovich's 6 Piano Pieces and Ballet Suite No 3 (Lyrical Waltz), Kabalevsky's First Book for Pianists (3 pieces), Tchaikovsky's Album for the Young Op 39 (4 pieces) and Schumann's A Little Study, Op 68 No 14 (from Album for the Young) all work very well for this medium. Some are wonderful explorations of rhythm, harmony or sheer delights in melody.
Children's Songs (Nos 1, 6, 18), originally for piano, by the American jazz pianist Chick Corea are joyful additions exploring the range of the instrument and, in particular, its bass register.
Whilst transcriptions can be effective and very worthy in expanding an instrument's appeal and breadth of repertoire, it is in the pieces written specially for the marimba that there is most to gain.
German composer Matthias Schmitt in three movements from his Sechs Miniaturen creates a hypnotic state with the use of repetition in the first Adagio, and a melancholic second Adagio which contrasts with a driven Presto.
Elena Kats-Chernin's Violet's Etude is energetic and tuneful, whilst Stuart Greenbaum's April Revisited has a more reflective quality.
Pierrot the Clown by Andrea Keller is quirky and playful. Mirimba (sic) by Daniel Rojas is complex with its syncopated rhythm and references to Latin American music.
Using the upper register, Trance Ripples by Gerard Brophy has been inspired by African rhythms in this piece an individual addition to the performance is Ms Edwardes wearing of an African anklet rattle on her right arm, which adds another timbral effect.
Of course, no marimba performance is really complete without the iconic, joyous and virtuosic Marimba Dances (first movement) by Ross Edwards. This is a mainstay in the repertoire and Ms Edwardes's performance here is fresh and filled with exuberance.
The high energy, pulsating drive and virtuosic sweeps in Matthew Hindson's Flash make this a really engaging and standout piece.
Edwardes plays a 5-octave marimba and the disc was recorded at City Recital Hall, Angel Place, Sydney. She is a most consummate performer who is able to bring flair and passion to all her performances.