Lian Husi Klamar: The Traditional Music of East Timor
Ros Dunlop
Published by Tekee Media, 2012
$59.95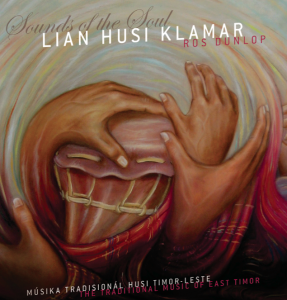 The first book to emerge concerning the music of the newest nation in the world, East Timor, is a rich resource, bursting at the seams with glorious photographs, paintings, songs and diagrams. Collated and written by classically-trained clarinetist, Ros Dunlop, from many journeys to the north, it is a work filled with passion and love for the people and culture of East Timor. As well, it shows that there is much to discover from our northern neighbours.
The book is written in English, but also has a translation into Tetun, sitting alongside.
The book is neither an academic textbook, nor coffee table pictorial, but rather an accessible and highly informative resource, which will be appealing to a vast range of people and professions. Not just musicians, but students, teachers, historians, and many others will find it useful and informative.
Dunlop opens the world of the East Timorese to the West through her discussion of family life, indigenous culture, its music, dance, ritual and daily life.
Throughout its pages, readers can access more of the sounds and visuals of subject matter via accompanying DVD and CDs, included in the jacket of the book. These are enormously helpful to bring to life such concepts, and would be an invaluable aid to any teacher of Music of Another Culture.
Dunlop details the various occupations and influences on the East Timorese, and shows the reader the resilience of its people to retain and continue to develop its rich heritage, one which has been passed down aurally from generation to generation.
For the teacher, there is a reproducible book of black line drawings and instrument pictures, complete with easy to understand descriptions. This is an excellent addition to what is a visual feast from the main book, its CD and DVD. The illustrations are by Timorese artists, Tony Amaral and Pelle Pereira.
Dunlop's is a work of great depth, adding significantly to the knowledge of this new nation. It is a discovery for any teacher or reader interested in our surrounding indigenous cultures. The colourful and detailed information is easily digested for every student who wishes to enlarge their world view and musical understanding.